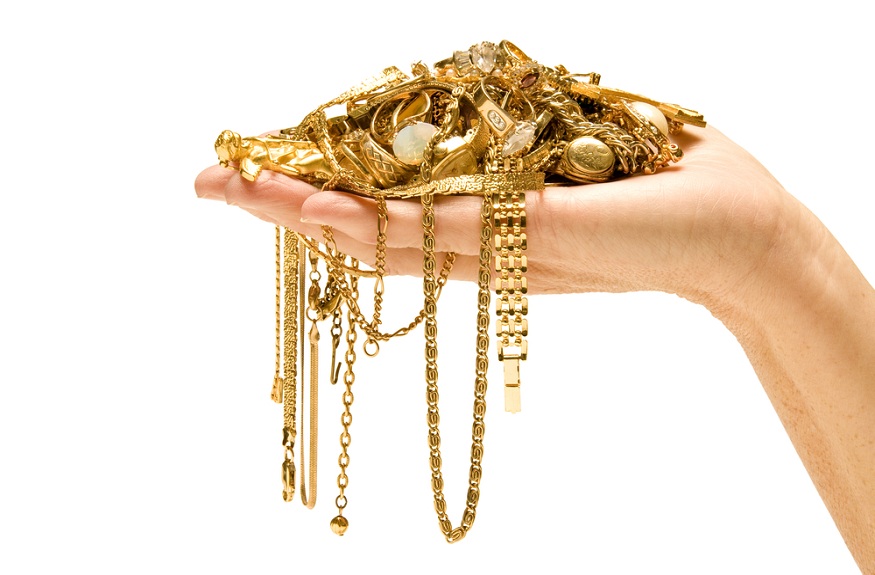 Buying gold is somehow a tradition in the country – moreover, it could not alone be a tradition. It is an investment. Presenting someone with gold can somehow turn out to be a hard-times helper. For instance, when you buy gold today – would it stand to be the same a few years in the future? It definitely would not, right? It also helps against inflation, and so many other benefits just come along. Wondering if there is a method you can get this gold on an EMI? Here's the answer to what you have been looking for.
Buying Gold on EMI – Options and Methods
Several online platforms have made it simple and popular for people to buy gold jewellery online. We have provided some methods for purchasing gold jewellery with EMI in India.
Before we go any further, let's take an example, for instance, shall we?
For instance, you choose to buy gold in full cash – what happens there?
The particular point is that when you want to buy gold in full cash – you would have to save up money for quite some time, by that time when the prices of gold would have also increased. In case you are a person who is residing in Delhi, you can look up the live gold rate in Delhi, and in a year, this price might have gotten higher. That is why an EMI comes in handy.
Ways to Buy Gold on EMI
Personal loans and credit cards are the two most common ways to purchase gold ornaments.
1) Through a Credit Card
If you want to buy gold jewellery online on EMI in India, a credit card may be one of your best options if you don't have any cash on hand. As you are aware, with the help of a credit card, you can purchase anything within your credit limit and then pay that amount in easy installments over a set period of time.
To use this service, you must pay a certain amount of interest on the amount you used with your credit card. The annual interest rate will be around 13%-18%, as opposed to 30%-40% when the credit is revolving without an EMI.
To buy gold jewellery online on EMI in India with a credit card, simply swipe it at the store where you want to buy the precious items. Before purchasing jewellery online, you should check your credit card's credit limit. For example, if your card's credit limit is INR 1 lakh, you can only buy jewellery worth INR 1 lakh.
You can convert this transaction into easy monthly installments for a fixed tenure of 6, 9, 12 months, or more after paying the full amount with your credit card. You can choose the duration based on your needs.
2) Through Personal Loan
If you want to buy gold jewellery online in India but do not have the necessary funds, a personal loan can help. You could get a personal loan with an affordable interest rate from any bank or financial institution for up to 5 years. You can choose the duration based on your needs and ability to repay. Personal loan interest rates typically range from 9% to 20% per year.
They differ from lender to lender and are also affected by your age, employment type, job history, monthly income, and CIBIL score. The repayment amount is determined by your interest rate, and you can pay the loan in installments.
Let's look at how you can get a Personal Loan to buy gold jewellery online.
Assume the jewellery you want to purchase costs around INR 3 lakh. As a result, the loan amount required is INR 3 lakh. You will need to take out a personal loan for this. Choose a lender who offers the loan amount at a low-interest rate.
If you are eligible, the loan amount will be disbursed into your account after the procedure is completed, and you can use the money to purchase Gold Jewellery online on EMI. Assume you receive a loan of INR 3 lakh with a 12% annual interest rate for four years.
We live in a time when everything is available online. Anything you want can be purchased using an internet connection on your smartphone or laptop. This list of anything also includes gold jewellery. Do you find it difficult to believe? You can, of course, buy gold jewellery online without difficulty. There are numerous online platforms from which you can easily purchase gold jewellery. Tanishq, PC Jewellers, Kalyan Jewellers, Blue Stone, Malabar Jewellers, and others are among them.
But what if you don't have enough money to buy the jewellery you want? You don't have to worry because you can buy any gold jewellery you want online with Equated Monthly Installments (EMI). This way, you can pay a set value of money each month for a set period of time.
There is also another way through which monthly installments can work for you with gold.
Monthly Gold Schemes
These are some schemes that you can make use of in the long run. Choose a good vendor, look at all of the offers they have in store for you and finally, choose it. Although let's look at how this gold scheme works and some things that you would have to consider.
A gold scheme works for approximately a year – which means every month, you will pay a fixed amount, and after a year, you can use that bulk amount to buy gold.
Things to Note
Here, you will only get the gold after the said period.
You will be buying the gold at that price at that time.
Conclusion
So, if you want to buy jewellery online but don't have enough money, read this post to learn about several ways to buy jewellery on EMI in India. You don't have to pay the entire amount all at once with these methods; instead, you can pay it in monthly installments. So, without further ado, choose these options to do so.